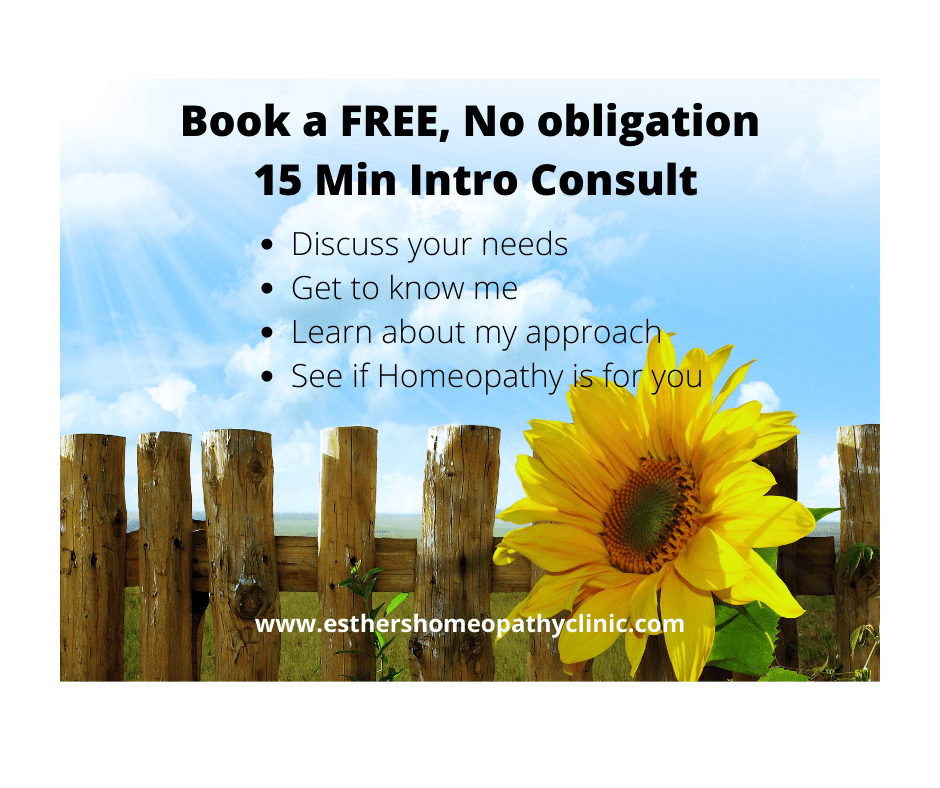 It's a bit like 'try before you buy'
And why would you not?
Like many other homeopaths; I offer prospective clients who are looking for chronic or constitutional homeopathic support, a 15 minute Introduction Consult.
This consult is not a place where I will take your case or prescribe a remedy. But it gives you an opportunity to meet with me before you decide if I am the right practitioner for you. No obligations, no cost, no expectation from me that you'll go ahead and book at all. I just want you to be able to make the right choice for you. And I will not feel offended if that does mean you will not work with me.
Why is an Introduction consult a good idea?
Homeopathy is a holistic and personalised form of health approach that acknowledges and embraces the links between physical, mental and emotional levels of health. In longstanding health complaints the consultations can be a very personal and intimate experience. As a homeopath I recognise that it is important that we both feel comfortable with working together. If you don't feel comfortable with your practitioner it will be hard for you to trust the process or to open up and share about things that you have found or find difficult to talk about that may be connected with or underlying your complaint, for instance.
You may be new to homeopathy or have questions you want to ask me about how I work. Or you may want to understand the scope of homeopathy in your situation; before you commit to the process of a homeopathic healing journey that may take several follow up consults and a need to delve into your health and personal history.
And I understand that there are many factors that come into that decision. At least if we meet and can put a face to a name, and talk about how the process will be if you do decide to work with me, or have some questions answered, that will help you decide if you would have confidence that what I offer you is what you are looking for.
Working with someone that suits your needs
It is a great way to assess compatibility; we are both humans with our own personality and expectations, limits and skills. Having a chat by phone or video call can be a perfect way to see if we 'click' and feel we could work together. It is also an opportunity for me to assess your situation and understand your needs in order to decide if I feel I can offer you what you are looking for; so really this introduction chat chat may benefit both of us equally.
You don't want to waste your time and money on something that does not suit you. And I want to make sure that when I work with you; you understand the process, you know what you are committing to and that what you are looking for and expecting is within my scope of practice and ability to offer.
Compare practitioners
If you are looking for a homeopath to work with; I always think it is a good idea to book several 15 minute consults with different practitioners that appeal to you; in order for you to be able to choose the one that fits your situation best, for reasons important to you.
Each practitioner has a different way of working, communicating and approaching the homeopathic process. Different practitioners may have received different training or have different fields of interest or experience. Not one is better than the other but a lot comes down to what you personally feel suits your situation best. And what your expectations are. Why not compare and chose the best option?
Topics to discuss in an introduction consult can be
Can homeopathy be used in my situation with my health complaint?
What school of Homeopathy do you follow, what is your experience?
What can I expect in my situation, what is the process, what do I commit to?
How often do I need to have a consult?
How do I communicate with you outside of consultations if I need to?
What if I take medications or what if also see other practitioners for my complaint?
What about waiting lists, payment, plans and offers, scheduling and receiving remedies?
So, don't be shy and grab this opportunity to have a chat.
 It is easy to book your free Intro chat by clicking the link below. And I'm looking forward to meeting you.